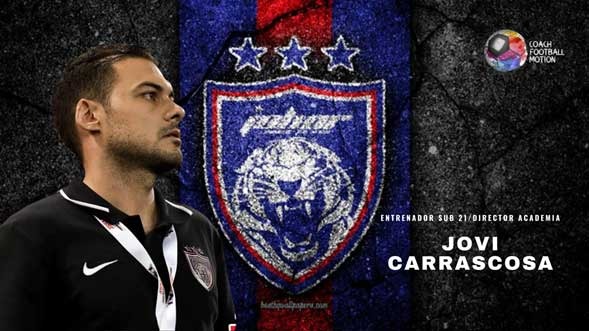 Johor Darul Ta'zim (JDT) Football Club Academy has today received an invitation from the Coach Football Motion to partake in the Coach Football Motion International Forum, which involves the best clubs and national teams around the world to share knowledge and experiences respectively in the football industry.
The forum aims to help the continuous training of coaches in the world of football, from grassroots to elite level and will be held via online on 1st October 2020.
According to the letter sent by the organisers, Coach Football Motion to Johor Darul Ta'zim, it was stated, "We consider you a reference within the top-level coaches and we wish for you to participate as an outstanding speaker," read the invitation from the Valencia-based organisers.
Johor Darul Ta'zim will be represented by the Co-Director of the JDT Football Academy, who is also the head coach of the Southern Tigers' U-21 squad.
"We would like to invite Jovi Carrascosa, head coach of the U-21 squad to present the great work you do in your academy that has been vital and played a key role in producing one of the best training academies in the world.
"It is an honour for us to invite you for this international forum to show the whole football world the great work that you do on a daily basis."
Among other participating clubs and national teams include PSG, Atletico Madrid, AS Roma, PSV, Valencia CF, River Plate, Olympique de Lyon, Brazil, Spain, Argentina, and England.
Visits: 237